Are you in search of the perfect cycling adventure with a mix of stunning landscapes and challenging terrains? Mallorca, a Balearic Island paradise, is renowned as one of the top international cycling destinations.
In this blog post, we're exploring the seven best cycle routes on this popular Spanish island that every cyclist must try. Let's saddle up for an unforgettable journey through picturesque coastlines, historical landmarks and thrilling climbs!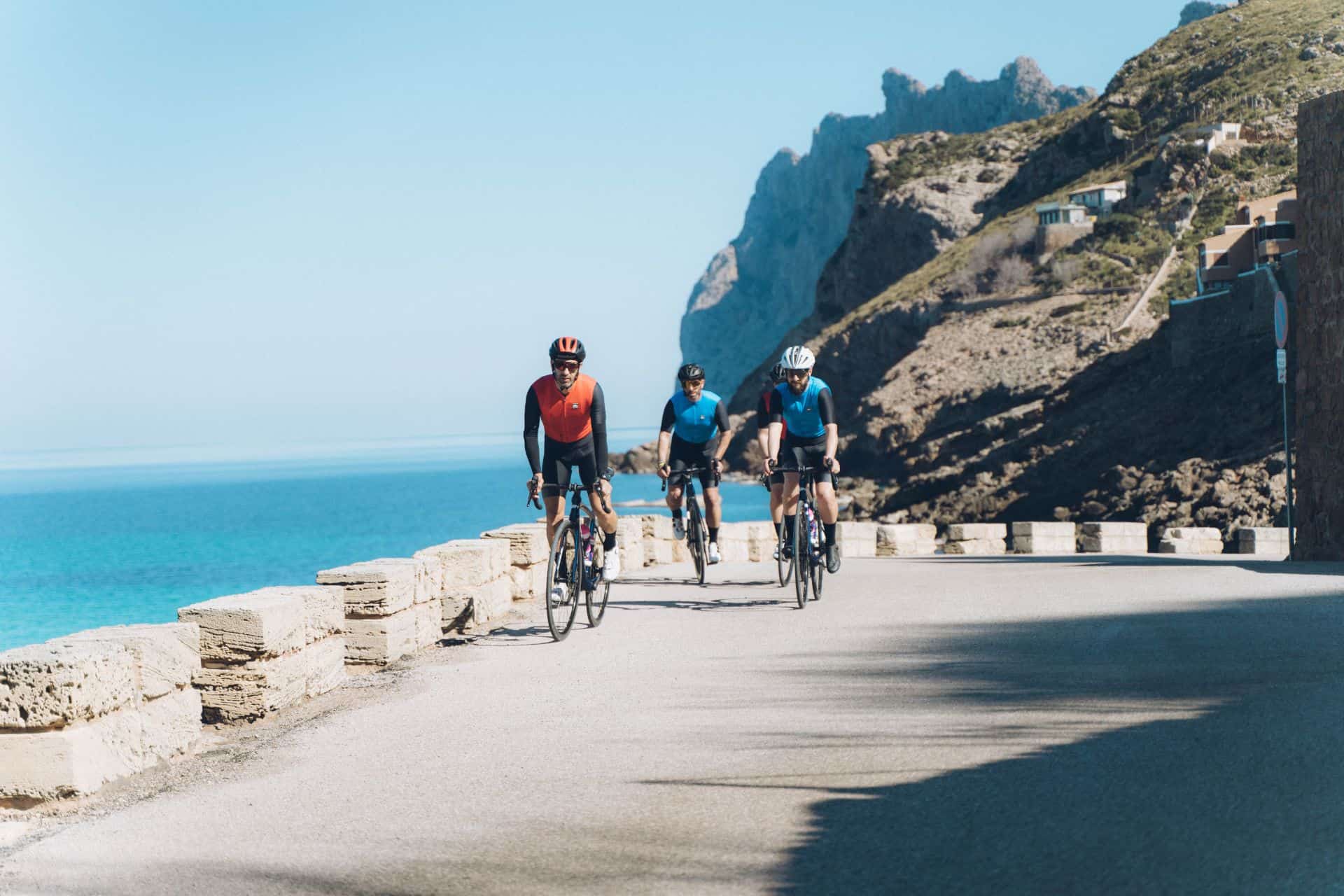 Out favorite Mallorca cycling routes
1. Port de Pollensa to Cap de Formentor offers stunning coastal views and a challenging climb for cyclists in Mallorca.
2. Andratx to Pollensa takes riders through picturesque countryside and past historical landmarks on a scenic route.
3. The route from Port de Soller to Sa Calobra is known for its hairpin bends, switchbacks, and beautiful coastal vistas.
4. The Alaro-Bunyola-Orient-Alaro circuit showcases the diverse terrains of Mallorca, with breathtaking mountain views along the way.
5. Cyclists can enjoy a relatively flat ride from Palma to Arenal, passing through charming villages and enjoying the scenic coastline.
6. Arenal to Llucmajor to Arenal provides an opportunity for more experienced cyclists with challenging climbs and rewarding descents.
7. The Valldemossa to Soller route offers cyclists the chance to explore Mallorca's famous Tramuntana Mountains and experience its incredible beauty.
Port de Pollensa to Cap de Formentor
The Port de Pollensa to Cap de Formentor route offers a thrilling cycling experience. Spanning over 20 kilometres, the journey begins from the bustling port at Pollensa and culminates at Cap de Formentor.
Known as the island's northernmost point, this spot basks in its reputation for its enchanting allure and being the rendezvous of four winds. Majorca's most renowned cycle trail certainly lives up to hype with challenging ascents that test even seasoned cyclists.
The reward lies not only in conquering these sections but also in absorbing breathtaking views along Mallorca's glistening coastline throughout this unforgettable ride.
Andratx to Pollensa
Offering a distance of 43km coupled with an ascent of 1,250m, the Andratx to Pollensa cycling route is not for the fainthearted. This demanding course draws avid cyclists from all over the world who are seeking a challenging and rewarding ride.
Indeed, it has been featured in top cycling blogs and websites frequently, a testament to its immense popularity.
The captivating beauty of this route is part of its allure: it runs along the MA-10 road which snakes through Serra de Tramuntana offering breathtaking coastal views. You'll find your effort paying off as you navigate through varying terrains amidst stunning landscapes that only Mallorca can offer.
The journey from Port Andratx to Valldemossa is particularly loved due to its remarkable vistas – picturesque villages nestled into rugged mountains against expansive sea views.
Port de Soller to Sa Calobra
Navigating from Port de Soller to Sa Calobra, cyclists tackle some of the most famed terrain in Majorca. This challenging route commands riders across Puig Major and the notorious Coll dels Reis.
The Sa Calobra climb, laced with 26 hairpin bends, is one that fills many a cycling enthusiast's heart with both fear and excitement. But it's worth every pedal stroke for the breathtaking views it affords over Mallorca's picturesque landscape.
Rolling green hills tumble into azure waters dotted with quaint towns like Deia—another gem on this cycle route. This iconic journey through the heart of the Serra de Tramuntana mountains provides not just an unforgettable ride but also an immersive exploration of every beauty spot Majorca has to offer.
Alaro-Bunyola-Orient-Alaro
The Alaro-Bunyola-Orient-Alaro route is considered one of the top cycling routes in Mallorca. This 34km circuit takes you through some of central Mallorca's most beautiful scenery.
As you pedal along, you'll pass through three charming pueblos that showcase the island's authentic charm. One highlight of this route is the climb up to Orient, where breathtaking landscapes await.
So get ready to explore this stunning route and soak in all the beauty that Mallorca has to offer!
Palma to Arenal
The Palma to Arenal cycling route is a must-do in Mallorca for any cycling enthusiast. Along the way, cyclists will have the opportunity to visit popular stops and attractions, including Alcúdia and Catedral-Basílica de Santa.
What makes this route truly special are the breathtaking coastal views of Mallorca that can be enjoyed throughout the ride. So gear up and get ready to experience the beauty of Mallorca's coastline on this unforgettable cycling adventure.
Arenal to Llucmajor to Arenal
The Arenal to Llucmajor to Arenal route is a must-try for cycling enthusiasts in Mallorca. This popular route offers breathtaking coastal views and presents a thrilling challenge with its diverse terrain.
As you pedal along, you'll have the opportunity to explore the central villages and take in the beauty of Puig de Randa. Considered one of Mallorca's top cycling routes, this journey showcases the island's natural splendor and provides an unforgettable experience for cyclists seeking adventure and stunning vistas.
Get ready to immerse yourself in Mallorca's cycling paradise on the Arenal to Llucmajor to Arenal route.
Valldemossa to Soller
The Valldemossa to Soller cycling route in Mallorca is a must-do for cyclists looking for an epic road ride. This route offers stunning scenery and is highly recommended for its challenging climbs and beautiful countryside views.
It is considered one of the top 7 cycling routes on the island and has free downloads available for easy navigation on mobile devices, Garmin, or GPS devices. If you're a cycling enthusiast seeking a memorable adventure in Mallorca, don't miss out on the Valldemossa to Soller route.
Benefits and Highlights of Each Route
– Scenic coastal views, challenging climbs, and historical sites await on the Port de Pollensa to Cap de Formentor route. Don't miss out on these breathtaking sights!
Scenic coastal views
The cycling routes in Mallorca offer cyclists the opportunity to enjoy stunning scenic coastal views throughout their ride. Whether you're riding along the Paseo and taking in breathtaking vistas of La Seu Cathedral, Palma old town, and the city beaches, or exploring the sun-dappled coastlines and rolling hillsides, Mallorca's cycling routes provide a feast for the eyes.
The diverse landscapes will certainly leave you awe-inspired as you pedal along, making Mallorca a must-visit destination for cyclists seeking picturesque beauty.
Challenging climbs
The challenging climbs in Mallorca are a key attraction for cyclists seeking to test their endurance and improve their skills. With generally steady gradients, these climbs offer an ideal training ground for pre-season preparation.
Hairpin bends are a common feature on these challenging routes, adding excitement and intensity to the ride. Mallorca offers a variety of climbs that cater to different fitness levels and abilities, ensuring there is something for everyone.
Whether you're looking to push yourself to the limits or simply enjoy the thrill of conquering tough ascents, the challenging climbs in Mallorca will not disappoint.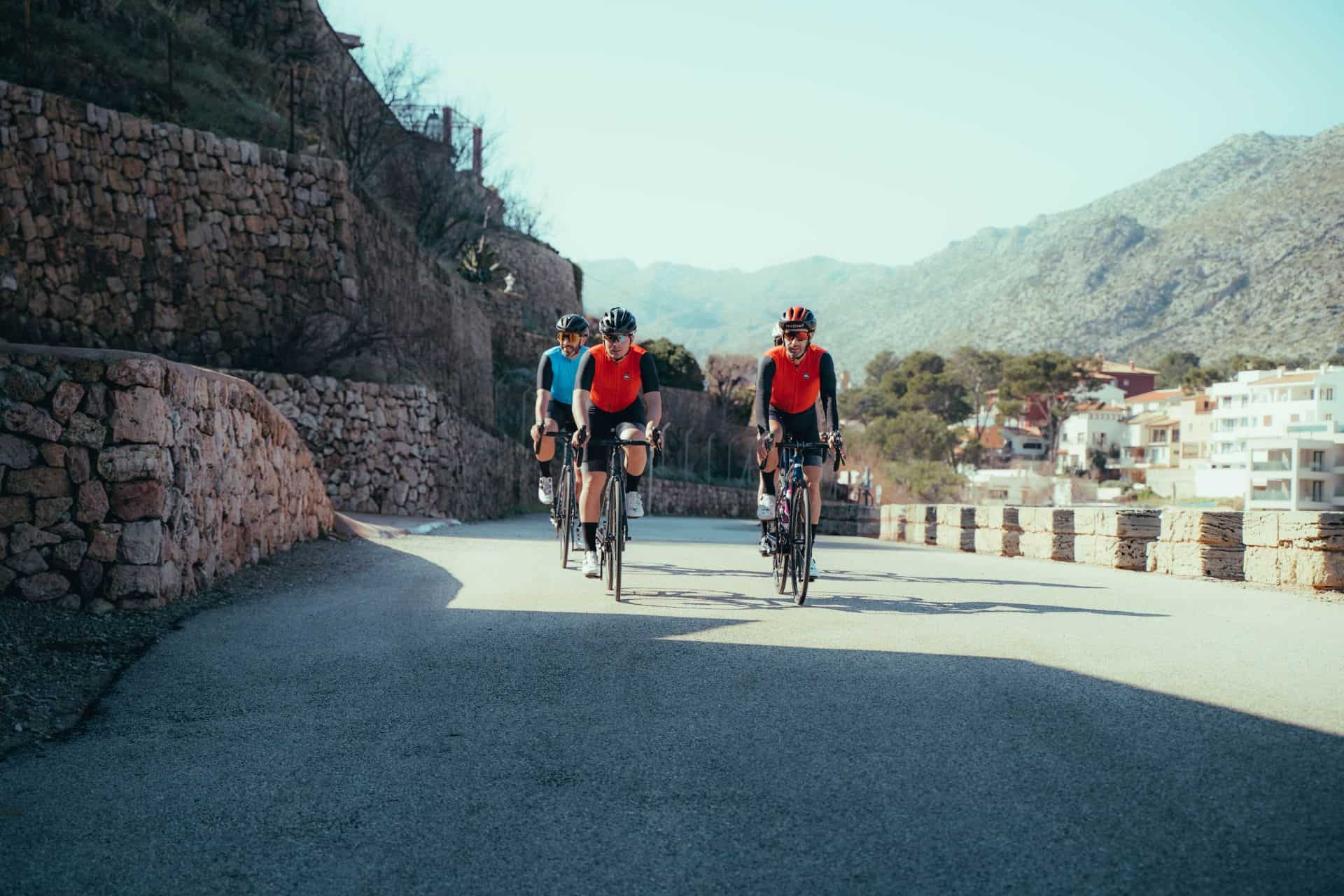 Historical sites and landmarks
The cycling routes in Mallorca not only offer breathtaking natural scenery, but also a chance to explore the island's rich history and culture. Along these routes, you'll come across several historical sites and landmarks that provide a unique glimpse into Mallorca's past.
For example, the Cap de Formentor route takes you past the famous lighthouse at Cap de Formentor, offering stunning views of the coastline. The Serra de Tramuntana route leads cyclists through picturesque mountain villages which showcase the island's traditional architecture and way of life.
Another notable route is Ruta de Ses Salines, where you can catch glimpses of historic watchtowers that once guarded against pirate invasions. So get ready to pedal your way through history as you explore Mallorca's cycling routes!
Beautiful countryside scenery
The cycling routes in Mallorca offer breathtaking views of the beautiful countryside scenery. As you pedal along the country lanes, you'll be surrounded by rolling hills, lush green fields, and charming villages.
The Tramuntana mountain range adds to the picturesque setting, with its stunning peaks and valleys providing a backdrop that will leave you in awe. Whether you're cycling through pine forests or enjoying panoramic vistas from elevated paths, Mallorca's natural beauty will make every moment of your ride truly unforgettable.
Variety of terrains
The cycling routes in Mallorca offer a variety of terrains that cater to cyclists of all skill levels. Whether you prefer challenging climbs or scenic flat roads, Mallorca has it all.
The island's terrain includes everything from coastal paths with breathtaking views to forested areas and rolling hills. With well-surfaced roads throughout the island, cyclists can expect a smooth ride as they explore the diverse landscapes of Mallorca.
Whether you're a beginner looking for an easy route or an experienced cyclist seeking thrilling challenges, Mallorca's variety of terrains ensures there is something for everyone to enjoy.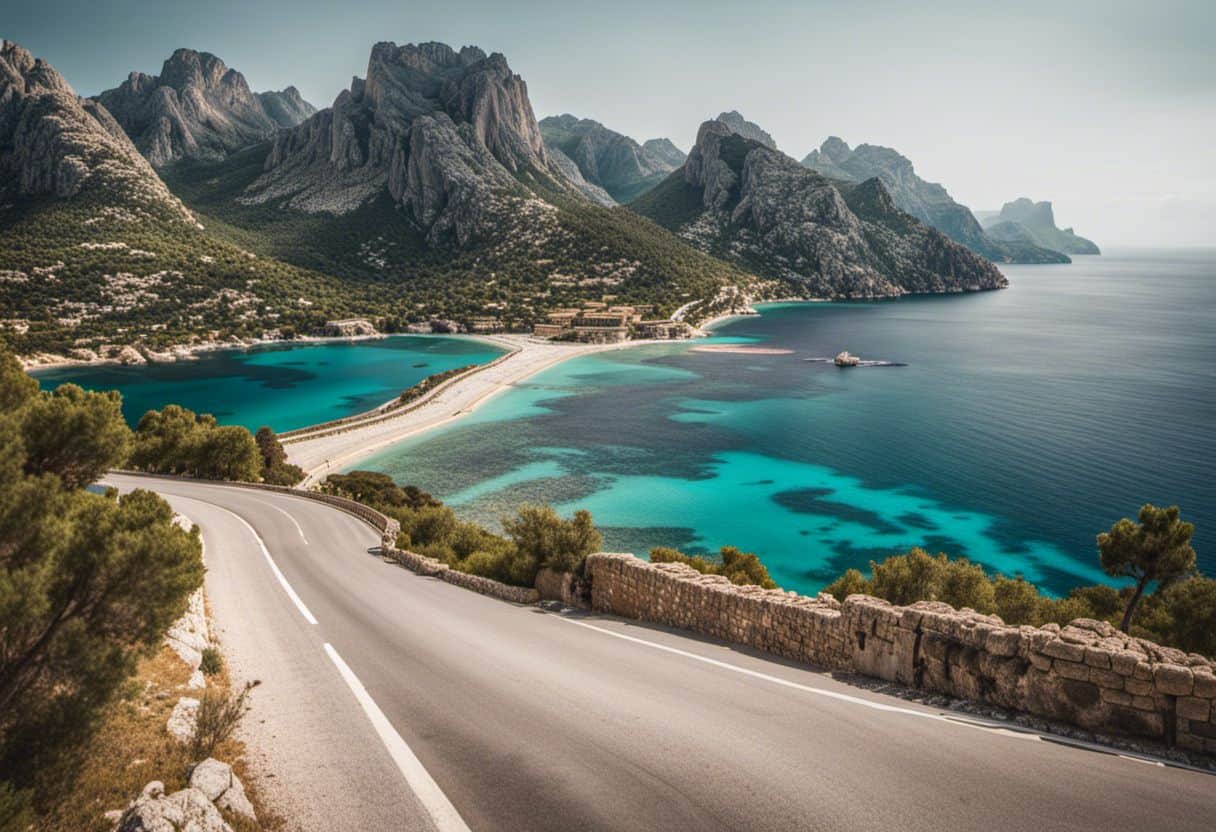 What to Prepare for Cycling in Mallorca
Get ready for your Mallorca cycling adventure by ensuring you have the proper gear, hydration and nutrition, safety precautions, and route planning. Discover all the essential details to make your journey smooth and enjoyable.
Ready to hit the road? Read on!
Proper cycling gear
Proper cycling gear is absolutely crucial when embarking on a cycling adventure in Mallorca. Having the right equipment ensures that you can fully enjoy your ride without any discomfort or safety concerns.
It's important to invest in a good quality helmet to protect your head and ensure your safety on the roads. Comfortable padded shorts are also essential for long rides, as they provide cushioning and reduce friction.
Don't forget to wear breathable clothing that wicks away sweat and keeps you cool during those challenging climbs. And of course, sturdy cycling shoes with proper grip will help maximize your pedal power and keep your feet secure on the bike.
Hydration and nutrition
Proper hydration and nutrition are essential for an enjoyable cycling experience in Mallorca. With the challenging climbs and long distances, it's crucial to stay hydrated throughout your ride.
Make sure to drink plenty of water before, during, and after your cycling sessions to prevent dehydration. Additionally, replenishing electrolytes with sports drinks can help maintain a balanced level of hydration.
Moreover, don't forget about fueling your body with the right nutrients. Pack energy bars or snacks rich in carbohydrates to keep your energy levels up during long rides. By staying hydrated and properly nourished, you'll have the stamina needed to conquer Mallorca's stunning cycling routes with confidence.
Cycling safety precautions
To ensure a safe cycling experience in Mallorca, it is crucial to take some safety precautions. Familiarize yourself with the specific traffic regulations for cyclists on the island to avoid fines.
Before renting a bike, make sure you understand the traffic rules regarding bicycle use. Wearing proper cycling gear, such as helmets and reflective clothing, is essential for visibility and protection on the roads.
Additionally, always plan your route in advance and carry a map or GPS device to navigate effectively. Remember to stay hydrated by bringing enough water and refuel with nutritious snacks during your ride.
Route planning and navigation
Planning your routes and navigating through Mallorca's cycling trails is essential to ensure a smooth and enjoyable ride. There are several resources available to help you with this process.
NANO bicycles offers free downloads of cycling routes for mobile, Garmin, or GPS devices, making it easy for you to follow the suggested paths. Another great option is using the Komoot website, which provides a comprehensive list of the top 20 bike rides and cycling routes in Mallorca.
By planning ahead and utilizing these resources, you can make the most out of your cycling holiday on this beautiful island.
Conclusion
In conclusion, Mallorca offers an array of spectacular cycling routes that cater to all skill levels and preferences. From the scenic coastal views of Port de Pollensa to Cap de Formentor, to the challenging climbs of Andratx to Pollensa, cyclists will be rewarded with breathtaking scenery and exhilarating rides.
Whether you're a seasoned cyclist or a beginner looking for a new adventure, Mallorca's top cycling routes are sure to impress and leave you wanting more. So grab your bike, explore the island, and experience the thrill of cycling in Mallorca.
FAQs
1. Are these cycling routes suitable for beginners?
Yes, some of the 7 best cycling routes in Mallorca are suitable for beginners. These routes offer a mix of flat terrain and gentle slopes, making them accessible to riders of all skill levels.
2. Is it necessary to bring my own bike for these routes?
While you can bring your own bike for these cycling routes, there are also numerous rental shops in Mallorca where you can easily rent a bike that suits your preferences and needs.
3. Are the cycling routes well-marked and easy to navigate?
Yes, the 7 best cycling routes in Mallorca are well-marked with signs and have clear directions along the way. Additionally, there are apps available that provide detailed maps and GPS guidance for each route.
4. Can I expect beautiful scenery along these cycling routes?
Absolutely! Mallorca is known for its stunning landscapes and natural beauty. Each of the 7 best cycling routes offers breathtaking views of charming villages, coastal cliffs, picturesque countryside, and scenic coastlines.